Application deadline has passed. Join us at the Supreme Drive to meet the winners!
2023 World Beef Expo Scholarship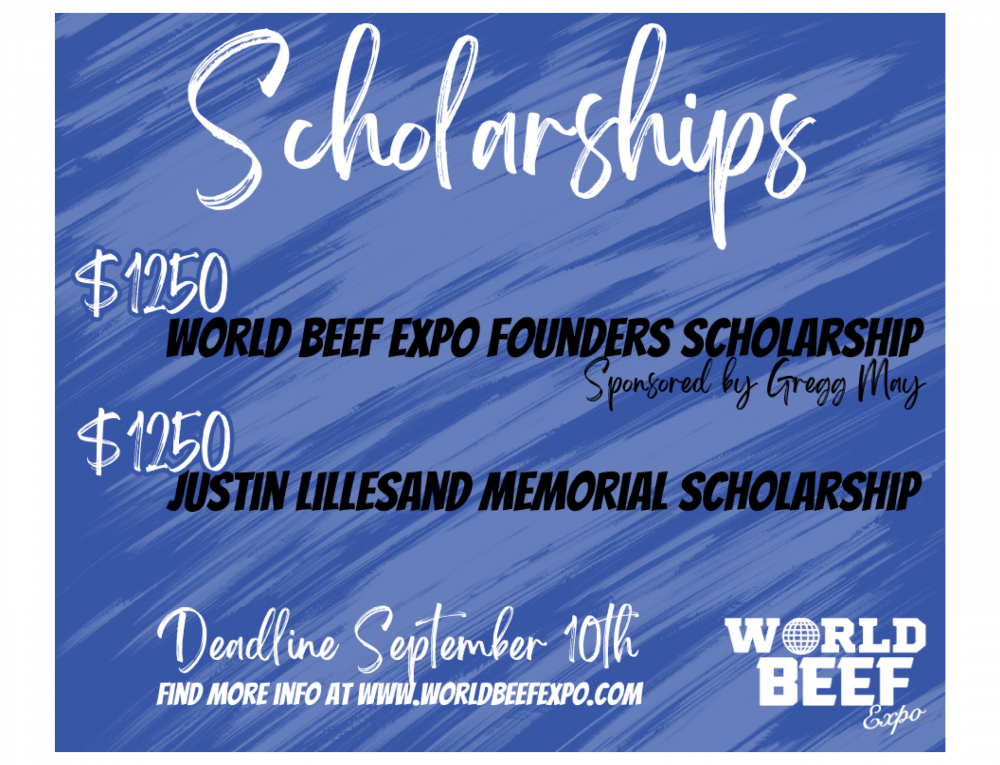 Click here for fillable application
The World Beef Expo Founders Scholarship was established to honor the men and women who, through hard work and foresight started the World Beef Expo. Their vision was instrumental in laying the foundation for its mission. World Beef Expo is proud to honor their contribution toward World Beef Expo's success. A scholarship of $1,250 will be awarded. The scholarship is sponsored by Gregg May.
The E.J. and Lisa Lillesand Family will also be sponsoring an additional $1250 scholarship in memory of their son, Justin Lillesand, who died in a tragic car accident.
The World Beef Expo Scholarships are available to any student no younger than a high school senior to no older than 21 as of January 1, 2023 and still eligible to show at World Beef Expo.
Applications must be emailed/post-marked no later than September 10, 2023
Applicants must be enrolled or planning to enroll in any University, technical college, or community college.
Preference will be given to students majoring in an agricultural related field.
Applicants must have a background in the beef industry and possess a sincere interest in beef production.
Preference may be given to applicants who have shown and participated in World Beef Expo. The Scholarship is open to individuals from any state.
Email is preferred but if you send by mail, please mail application to:
World Beef Expo
PO Box 1
Burnett, Wisconsin 53922
Email: [email protected] - Be sure to put "Scholarship Application" as the subject on your email. If you do not follow this rule, you may be disqualified.