*
2023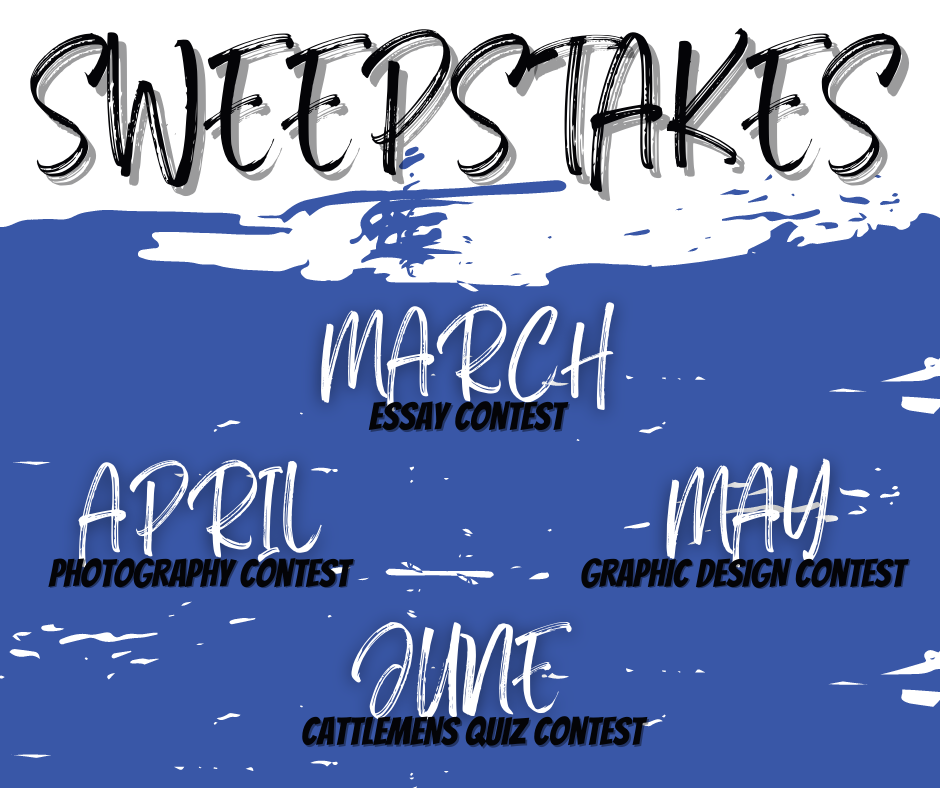 AGE DIVISIONS
(Age as of January 1, 2023

Beginner- ages 8-11
Junior- ages 12-15
Intermediate- ages 16-18
Senior- ages 19-21
Open to all youth
Feel free to enter in one or all of our four contests for 2023
---
---
2023 PHOTO CONTEST
April 1- April 30
Photo Contest Rules
Picture must include a beef animal in some way
Contest is worth 100 points
Contestant must not be in the photo
Must not be digitally enhanced ex: no black and white, no enhancement of the photo in any way
When making the entry to [email protected] in the subject line include exhibitor name then age division and the contest
ex: Jim John-Junior-Photo Contest
The photo must be accompanied by a statement of originality
NO LATE ENTRIES
Check back next month for the next contest!
---
---
2023 ESSAY CONTEST
CONTEST CLOSED
March 1 - March 31
200 points possible
Themes for Essays
Beginner- What is your favorite cattle breed and what are some interesting facts about that breed?
Junior & Intermediate - Why is the cattle industry so important today?
Senior - What are some current issues facing the animal industry?
Entry guidelines/rules:
1 inch margins
double spaced
12 pt times new roman font
200 word minimum - 250 word maximum for Beginners and Juniors
450 word minimum - 500 word maximum for Intermediate and Seniors
ALL RULES MUST BE FOLLOWED FOR ESSAY TO BE ACCEPTED
NO LATE ENTRIES
Email ALL entries to [email protected]
WHEN EMAILING IN AN ENTRY PLEASE INCLUDE THE CONTEST NAME IN THE SUBJECT LINE
OF THE EMAIL.
Please include a statement in the email certifying that the essay is the original work of the contestant.
---